ADIDAS Lone Star Classic 18s
ADIDAS LONE STAR CLASSIC 18s
Club Directors,
The GRB has confirmed that they are able to host LSC 18s from March 26-28th in Houston. Please read the below update for the tournament so that your team can prepare:
Registration
All teams' status in AES will be moved to Pending unless you have already confirmed attendance with our staff for the new dates. If a team dropped before the event was postponed and would like to play now, please let our staff know. Due to the short turn around time for housing, teams will be marked as Accepted for the event upon payment (or written confirmation of attendance), but Stay to Play will still be in effect. Teams outside of 60 miles from the venue will need to book a minimum of 5 hotel rooms per night of the tournament. If a team does not have the proper number of hotel rooms booked by March 16th, that team will revert back to Pending in AES and will not be in the tournament until housing requirements are fulfilled.
New Registrations and Deadlines
With the new dates in March, additional space is available in the GRB. If you have additional 18s teams that would like to participate in the tournament, we can accommodate them. Please notes that Late Fees will start 3/1 and Registration will close 3/9.
Housing
EM2 Housing is in the process of securing new hotel blocks for teams. Housing will open in March, the exact date will be confirmed in the future by EM2. Please wait to book hotels until EM2 announces that the hotel blocks are ready.
Spectators & Ticketing
Ticketing is open. Each team will receive 10 athlete tickets and 3 coach tickets. Please let us know if you have more than 10 athletes and our staff will adjust your team's tickets. Coaches' tickets are to be used only by coaches for their designated entrance.
Rosters
15 athletes, 1 head coach and 2 assistant coaches are allowed on each roster. Chaperones and team representatives are allowed, but will be required to use a teams' spectator ticket allotment due to the capacity restrictions.
This USAV sanctioned National Qualifier will follow a 3-day format.
7 matches guaranteed
R1 provided
Work team provides the R2
No tiebreakers throughout the tournament!
Ties will be determined by Match %, Set %, and then Point %. Two-way ties will be determined by Head to Head.
Open Division
The Open divisions are designed to give the most competitive teams in the country an opportunity to compete and qualify for the Open division at the USAV GJNC. A maximum of 3 Open bids will be given out in each of the Open divisions.
USA Division
The USA divisions are the next step of competition after the Open Division. This division gives teams the opportunity to compete and qualify for the USA division at the USAV GJNC. USA bids are exclusive to National qualifiers. A maximum of 3 USA bids will be given out in each of the USA divisions.
Liberty Division
The Liberty divisions are the next step of competition after the USA Division. This new (2022) division gives teams the opportunity to compete and qualify for the Liberty division at the USAV GJNC. A maximum of 2 Liberty bids will be given out in each of the Liberty divisions.
American Division
The American divisions are the next step of competition after the Liberty Division. This division gives teams the opportunity to compete and qualify for the American division at the USAV GJNC. A maximum of 1 American bid will be given out in each of the American divisions.
All teams must check-in online prior to their first match. There will be no on-site check-in and no paper copies will be accepted at the event. A cell phone number of a coach onsite must be entered.
University Athlete is a communication tool between collegiate coaches and prospective student athletes. This service allows for Athletes to input their information for college coaches to easily evaluate. University Athletes allows coaches to tap into this database using their iPhone, Android, or Blackberry devices. Read more...
The ball bag program will not be offered this year due to COVID.
Please see the Lone Star Classic refund policy HERE
For general tournament protocol regarding masks, social distancing and spectators please see the General COVID Safety Information.
All venue-specific COVID information will be posted on the Policy & Procedures page.
Clean Houston's Safety Measures Video
The GRB has implemented the following and more for COVID safety:
Thermal scanning technology at each entry point
Touchless technologies including sliding doors at all entry points, light switch sensors in conference rooms, permanent door stops, water fountains, paper towel and soap dispensers, and payment options
Updated cleaning and disinfection measures throughout the facility with a focus on increasing frequency of disinfection in high-traffic areas and commonly touched points
Updated sanitizer dispensers with ION Pure plastic with antibacterial agents
UV disinfection technology on all escalator handrails
Emergency interface on the control system to override all damper positions to 100% clean and we have upgraded to Merv13 filters throughout the facility
Sneeze guards for F&B operations
COVID-19 signage for social distancing and cleanliness, rope and stanchions for queuing, etc.
Travel - stay to play event
Book Hotel - Here
Housing will open March 4th at 12pm CST. 5 rooms for the entire event are required per team.
| TEAM NAME/CODE | LSC 18's Division | QUALIFIED DIVISION |
| --- | --- | --- |
| AJV 18 adidas -G18AJVBA1LS | 18 Open | 18 National |
| Austin Skyline 18 Royal -G18ASKYL1LS | 18 Open | 18 American |
| AVA TX 18 Adidas -G18AVATX1LS | 18 Open | 18 USA |
| Club V 18 Ren Reed - G18CLUBV1IM | 18 Open | 18 National |
| H Skyline 18 Royal - G18HOSKY1LS | 18 Open | 18 Open |
| H Skyline 18 Black - G18HOSKY2LS | 18 Open | 18 USA |
| Hou Stellar 18 Elite - G18HSVBA1LS | 18 Open | 18 National |
| OJVA 18-1 Gold - G18OJVAC1CE | 18 Open | 18 National |
| SA Juniors 18 Adidas - G18SAJVB1LS | 18 Open | 18 Open |
| Arizona Storm 18 Thunder - G18STORM1AZ | 18 Open | 18 Open |
| T3 18 Elite Brian - G18T3VBC2EV | 18 Open | 18 National |
| TAV Houston 18 Black -G18TAVHO1LS | 18 Open | 18 American |
| Tstreet 18-Kasia - G18TSTRT1SC | 18 Open | 18 Open |
| USANY Fortitude - G18USANY1IE | 18 Open | 18 National |
| Drive Nation 18 Red - G18DRIVE1NT | 18 USA | 18 USA |
| MAVS 816 18-1 -G18MAVSE1HA | 18 USA | 18 American |
| OP2 18-1 - G18OP2VB1OK | 18 USA | 18 National |
| TAV 18 Asics Black - G18TXIMG1NT | 18 USA | 18 USA |
| Texas Pistols 18 Black - G18TXPST1NT | 18 USA | 18 USA |
| TX Legacy 18 Elite - G18TLGCY1LS | 18 American | 18 American |
*unofficial list as of 3/25/21
Click HERE to read about steps the GRB is taking during COVID to ensure health and safety.
The following are not allowed at the event or venue(s):

Outside food, drink, or coolers
Smoking/alcohol or weapons, including concealed firearms
Ball handling off the court
Outdoor chairs inside the venue(s)
Pets; exception for guide or service animals
Bikes, skateboards, roller skates/blades

Appropriate non-marking athletic shoes are required on all competition floors.
The event and venue(s) are not responsible for lost or stolen items and reserve the right to remove individuals for unacceptable behavior and/or be subject to further legal action.
Parking and directions to the George R. Brown convention center can be found here:
https://www.grbhouston.com/attendees/parking-maps-and-directions/

We recommend booking convenient and affordable parking in advance through SpotHero, the nation's leading parking reservation app. To reserve your parking spot, visit the
George R. Brown Convention Center SpotHero Parking Page
and book a spot with rates up to 50% off drive-up.
BallerTV will stream all matches at this event - Livestream
Use the code AJVTV to associate your account with the event!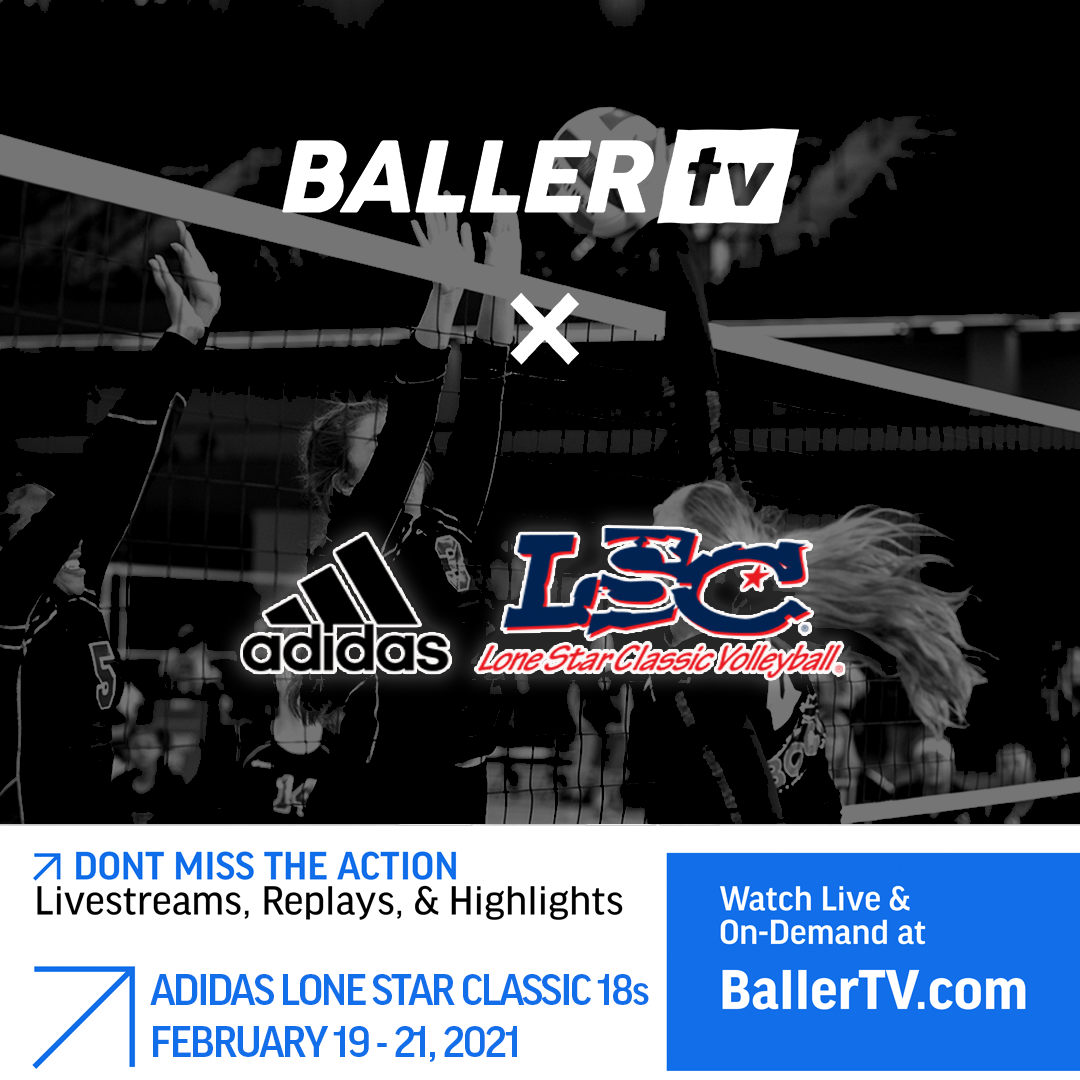 Simpatico Solutions will be the tournament shirt provider for the adidas Lone Star Classic. Be sure to order online and skip the line with pick up onsite!
Ticketing is ONLINE and CASHLESS. PHOTO ID and TICKET must be presented for facility entry EVERY TIME.
2 SPECTATORS per athlete will be allowed into each venue. Different spectators can attend each day. Tickets cannot be switched during the day between two spectators. To purchase a ticket, you must have the correct code issued to your club.
Due to COVID restrictions, our policies have become stricter to enable contact tracing and spectator limitations. Tickets are issued individually by attendee name and are not shareable or transferrable.
Need help with purchasing tickets? Take 2 minutes to read this guide.
| TICKET TYPE | | |
| --- | --- | --- |
| DAILY TICKET | $10 | $12 |
| Child (5 & under) | Free | Free |
Presale ends Thursday, Feb 18th at 11:59pm

Every year, 130,000 athletes are evaluated 1.5 million times by college coaches in the University Athlete system. Athletes should take control of their recruiting data by requesting a free profile account to make sure their data is accurate. We charge college coaches, not players.
Click here to see the list of college coaches registered on University Athlete for this tournament!
| Bid Breakdown | |
| --- | --- |
| 18 American | 1 |
| 18 Open | 3 |
| 18 USA | 3 |
| AGE | |
| --- | --- |
| 18 American | PM |
| 18 Open | AM |
| 18 USA | AM |
Congratulations Medalists!
Congratulations to the podium finishers at the 2020 Mizuno Lone Star Classic 18s!