Congratulations Medalists!
Congratulations to the teams who took home hardware from the 2020 Mizuno Lone Star Classic 18s. Thanks to all who participated!
All divisions - $795
Registration Deadline - January 29, 2020
Closed Registration Deadline - February 12, 2020
This USAV sanctioned National Qualifier will follow a 3-day format.
7 matches guaranteed
R1s will be provided for all matches
Work teams will be responsible for providing the R2
NEW Tie Breaking Procedures
All teams are required to check-in prior to their first match.
On-Site Check-In
Austin Convention Center - Hall 4 Lobby
Early Check-In - Thursday, 6pm-8pm
Day 1 - 7am-9am & 1pm-3pm
Customized Bag Tags - Rosters must be submitted by January 28, 2020.
University Athlete is a communication tool between collegiate coaches and prospective student athletes. This service allows for Athletes to input their information for college coaches to easily evaluate. University Athletes allows coaches to tap into this database using their iPhone, Android, or Blackberry devices. Read more...
List of colleges attending:
2020 Mizuno Lone Star Classic 18s - Austin
Coaches will be able to rent warm up balls from the championship desk by following the below steps:
Come to the championship desk located behind merchandise booth in Hall 4
Provide the tournament staff with a form of ID
The coach is responsible for keeping track of all rented items (balls and/or ball cart)
Before leaving for the day, please return all equipment to championship desk
ID will be returned when equipment has been returned and accounted for!
| AGE | | |
| --- | --- | --- |
| Adult Tournament (3-day) | $22 | $30 |
| Student/Senior (6-18, 65+) Tournament (3-day) | $16 | $22 |
| ADULT DAILY | NA | $12 |
| Student/Senior (6-18, 65+) DAILY | NA | $8 |
| Child (5 & under) | Free | Free |
IMPORTANT:
Pre-sale prices will end at 8pm the evening before first day of play
If you are attending both LSC 18s and the Tour of Texas Finals, the 3-day LSC wristband will gain you access to both tournaments
We will be offering a 2-day tournament pass on-site for spectators who are only able to attend 2 of the 3 days
Chaperones & team representatives must purchase a spectator wristband
PICK UP ONLINE ORDERS OR PURCHASE ON-SITE
Austin Convention Center - Hall 4 Lobby
Thursday, Feb 27 - 6pm-8pm
Friday, Feb 28 - 6:30am-8pm
Saturday, Feb 29 - 6:30am-6pm
Sunday, Mar 1 - 7am-Noon
Stop by the merchandise booth located in Hall 4 to pick up your official event merchandise brought to you by Simpatico Solutions!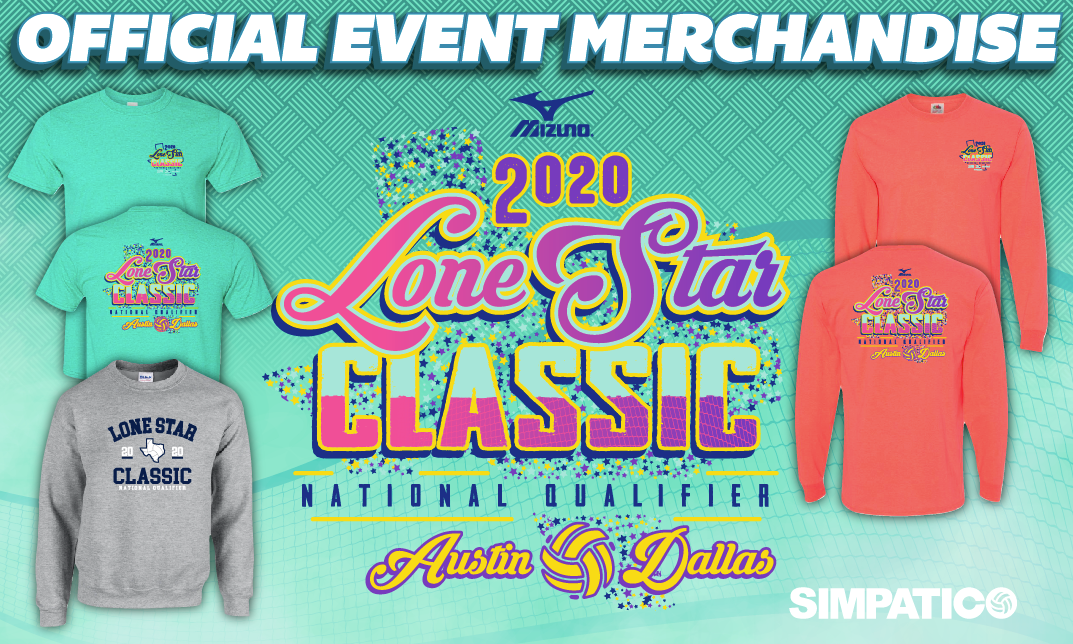 Championship Combines is hosting the Lone Star Classic 18's Recruiting Combine open to any high school age player, regardless if they are participating in the Mizuno LSC 18's event or not.
Thursday, February 27  8pm - 9:30pm
Austin Convention Center
| AGE | |
| --- | --- |
| 18 American | PM Wave |
| 18 Open | AM Wave |
| 18 USA | AM Wave |
No outside food or drink is permitted inside the venue or exhibit halls.
No ice chests, coolers, or food carriers will be allowed inside the venue or exhibit halls
No smoking/alcohol or weapons, including concealed firearms, are strictly prohibited of any kind allowed inside the venue
Be sure to pick up any trash and dispose of in the available recycle and trash cans
Secure all valuables. The event nor the venue is responsible for lost or stolen items
No ball handling in the hallways or areas not covered by sport-court
Appropriate non-marking athletic shoes are required on all competition floors within the venue
No outdoor chairs inside the venue
Pets, other than guide animals, are prohibited
Do not block, gather or store equipment in or near doorways, entrance-ways or hallways
Team meetings should not be held on the courts
Please use emergency exits for emergencies only
Bikes, skateboards, roller skates/blades are prohibited
Individuals who engage in unacceptable behavior will be asked to leave the facility and/or be subject to further legal action
We recommend booking convenient and affordable parking in advance through SpotHero, the nation's leading parking reservation app.
To reserve your parking spot for Lone Star Classic Austin, visit the Austin Convention Center Parking Page and book a spot with rates up to 50% off drive-up.
New to SpotHero? Click hereto download the SpotHero app.