About AJV: Club Highlights
Eight National Championships at USA Junior National Championships
16 adidas won the 2021 Junior Nationals in 16 American
18 Mizuno won the 2017 Junior Nationals in 18 USA
16 Mizuno won the 2015 Junior Nationals in 16 American
17 Cedar Park won the 2013 Junior Nationals in 17 USA
18 Mizuno won the 2013 Junior Nationals in 18 American
17 Mizuno won the 2011 Junior Nationals in 17 Open
17 Mizuno won the 2008 Junior Nationals in 17 Open
18 Mizuno won the 2005 Junior Nationals in 18 National
Two Silver medal at the USA Junior National Championships
17 Mizuno at the 2017 Junior Nationals in 17 Open
16 Mizuno at the 2011 Junior Nationals in 16 American
Nine Bronze medals at the USA Junior Nationals
15 Mizuno at the 2018 Junior Nationals in 15 National
14 Mizuno at the 2014 Junior Nationals in 14 American
16 Mizuno at the 2013 Junior Nationals in 16 USA
16 Mizuno at the 2010 Junior Nationals in 16 Open
17 Mizuno at the 2009 Junior Nationals in 17 National
12 Mizuno at the 2007 Junior Nationals in 12 National
18 Mizuno at the 2007 Junior Nationals in 18 American
12 Mizuno at the 2003 Junior Nationals in the 12 Club
18 Navy at the 2001 Junior Nationals in the 18 Open
67 All-Tournament athletes at Post-Season Tournaments
Lauren Murphy (MVP), Kayla Lopez, Ellie Mattox, Parker Duncan - 2021
Katie Hashman, Lauren Lietzke Emery Herman- 2018
Ellie Crosley (MVP), Kristina Fisher, Avery Rhodes, Madison Baptiste, Holly Campbell, élan McCall- 2017
Rylee Baptiste, Kayla Granado, Maddie Lowe- 2016
Lindsey Ledyard (MVP), Kristina Fisher, Avery Poppinga - 2015
Stephanie Aiple (MVP), Rafi Strobos, Grace Weghorst, Melodi Ramirez (MVP), Maggie DiPronio, Hailey Stout, Amanda Lesikar, Lauren Walker - 2013
Stephanie Aiple, Shelby Green, Gracce Weghorst, Jazzmin Babers, Katy Beals, Amy Neal (MVP) - 2011
 Molly McCage, Amy Neal - 2012
Amy Neal, Sierra Patrick - 2010
Amy Neal, Elly Barrett, Amari Deardorff, Ashlee Hilbun - 2009
Emily Danks, Jessica O'Shoney, Elly Barrett (MVP) - 2008
Elizabeth Graham, Bianca Saula, Brittanie Wallace, Hannah Tucci - 2007
Hannah Tucci - 2006
Shannon Davis, Tedi Doucet, Ashley Nachreiner, Becky Perry - 2005
Eight AJV Players have been named to the Volleyball Magazine Fab 50
Nancy Barba
Katy Beals
Megan Kainz
Kathy Hahn
Molly McCage
Amy Neal
Becky Perry
Sara Shaw
Four AJV player have been named Gatorade Player of the Year for Texas
Morgyn Greer- 2016
Amy Neal-2012
Sara Shaw - 2010
Kelsey Bryant - 2005
AJV players and Staff named to the National High Performance Teams
Emery Herman - Youth A1 - 2018
Holly Campbell - Youth National Team - 2017, Youth National Training Team - 2016
Stephanie Aiple - Youth A1 2012, 2013
Morgan Greer - Select National Team - 2012, 2013
Kelsie Payne - Junior A1 - 2013
Becky Perry - Junior National Team - 2005, National Team 2009-2011
Molly McCage - Youth National Team Captain - 2011
Sara Shaw - Junior National Team - 2010
Amy Neal - Youth National Team 2009
Erik Sullivan - 2 time Olympian - 2000, 2004
Sarah Silvernail-Elliott - National Team
31 AJV Players have been named collegiate All-Americans
26 of the 28 Austin American Statesman's Players of the Year since 1992 have been Austin Juniors athletes
2017 - e'lan McCall (Rouse)
2016- Lindsey Ledyard (Cedar Park)
2015- Morgyn Greer (Dripping Springs)
2014- Morgyn Greer (Dripping Springs)
2013- Stephanie Aiple (Round Rock)
2011- Amy Neal (Lake Travis)
2010- Amy Neal (Lake Travis)
2009- Sara Shaw (Westlake)
2008- Elly Barrett (Westlake)
2007- Elly Barrett (Westlake)
2006- Elizabeth Graham, (Vista Ridge)
2005- Lauren Dickson (Westlake)
2004- Shannon Davis (Westlake)
2002- Christi Hahn (Leander)
2001- Jessica Mihm (Westlake)
2000- Jacky Niederstadt (Westwood)
1999- Cathy Hahn (Leander) and Laura Grote (Westwood)
1998- Noel Frohman (Round Rock) and Laura Grote (Westwood)
1997- Brandi Price (Manor) and Urissa White (Travis)
1996- Michelle Graham (Austin) and Kathy Tilson (Westlake)
1995- Ansley Garnett (Bowie) and Erin Pryor (Round Rock)
Significant Individual Accomplishments
Amy Neal (15 Mizuno) was named to USA Volleyball Youth National Team Roster to compete in the 2009 World Championships in Thailand
Molly McCage was selected as Captain of the 2010 USA Youth National Team.
Meghan Kainz (AJV Class of 04) of Westlake was placed in USA Volleyball's Junior A2 program
Becky Perry of Bowie (AJV Class of 06) was named to USA Volleyball's Junior National Team that competed in Mexico in the summer of 2006. She was on the USA National Team 2011.
Kelsey Bryant was named a Mizuno First Team All-American by Volleyball Magazine.
AJV alumni and their achievements while playing in college:
Three athletes were named NAIA All-Americans (Kim Long - AJV '88; Kelley Ford - AJV '89; Melanie Hudkins - AJV '89)
Five alumni have been named NCAA Academic All-Americans (Anna Finley - AJV ' 90; Jennifer Murdock - AJV '91; Brooke Newbury Wells - AJV '93; Beth Weynand - AJV '97; Kristin Colson Thompson - AJV ' 01)
Four AJV alumni have been named NCAA Division I All Americans (Priscilla Pacheco - AJV '91, Bethany Howden - AJV '01, Becky Perry - AJV '06, Molly McCage - AJV '12)
Veronica Walls (AJV '95) won the NCAA Division I National Championship at Long Beach State University and led the country in hitting percentage.
AJV alumni playing professionally after college
Indoor Professionals: Debbie Haley- Hays '85, Switzerland; Kathy Tilson - Westlake '98, Germany; Krysta Cannon, Westwood '02, Gerrmany '06, and Serbia '07, Bethany Howden - Westlake '01, Puerto Rico '02, Sarah Weiland - Pflugerville '04, Germany, Becky Perry - Bowie '06, South Korea, Sara Shaw - Westlake '10, Switzerland, Angela Lowak- New Braunfels '12, Switzerland, Molly McCage- Klein '14, Germany, Kelsie Payne - Connally '14, South Korea, Madison Rigdon- Pflugerville '14, Turkey, Rebecca Latham - McNeil '15, South Korea, Jaimeson Lee - Brentwood Christian '16, Puerto Rico
Athletes competing on the AVP: Noel Frohman '99 Round Rock, Paige Davis - Westlake '00 (Won Australia Touranment, Feb 08), Lauren Dickson - Westlake '06, Becky Perry - Bowie '06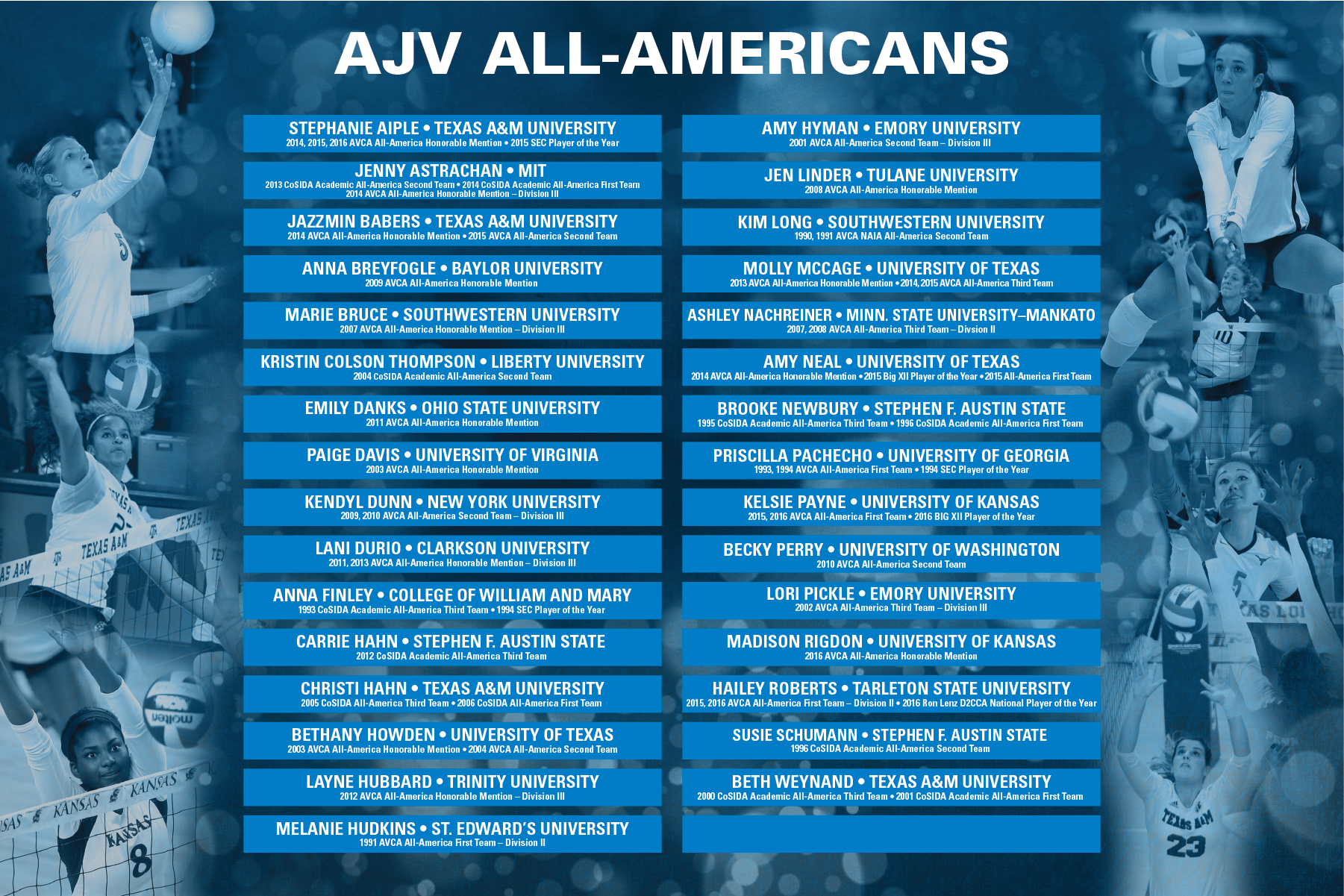 Other Significant Accomplishments by Austin Junior Volleyball
Won 29 Lone Star Regional Championships (3 in 2005 and 2006, 2 in 2007 and 1 in 2008, 2009, 2011)
Earned 17 Tour of Texas Power League Championships
Won the Gold 12 times in the Lone Star Classic Junior National Qualifier
Named as the one of the top 3 clubs in the state by Lonestarvolleyball.com for each of the last 6 years (2002-2007)
40 AJV athletes and 13 coaches have been selected to participate in the Lone Star Region High Performance Program
Since 1985, over 500 athletes have earned volleyball scholarships totaling over $8,750,000 in value (including 34 athletes in 2018)
Qualified 157 teams for the USA Junior Olympic Championships (10 in 2002, 2004, 2008, 2009; and 9 in 2005, 2007, and 2013) with 30 top 10 finishes
Since 2001, Austin Juniors ranks 3rd in the country in number of teams qualified in the open divisions at Junior Olympics
AJV alumni who have come back to Austin Junior Volleyball to coach:
| | | | |
| --- | --- | --- | --- |
| Vanessa Barnard | Shauna Stahl Griffin | Avery Lewis | Christy Clawson Smith |
| Kylene Berdoll | Rebekah Hajduk | Jenn Luin | Megan Steinhardt |
| Emily Burdett | Kathy Hahn | Angela McAdams | Urissa White Stephens* |
| Michael Faulkner Catanese | Heidi Hausheer | Laura Hanner Milton | Lindsay Tarvin |
| Katie Cordes | Ashlee Hilbun | Melissa Mudge | Kristin Colson Thompson |
| Amari Deardorff | Brandi Bradley Holsonback | Shelley O'Donnell | Hannah Tucci |
| Kim Brewer Dirner | Bethany Howden | Jessica O'Shoney | Becky Stahl Walters* |
| Christi Dreier | Jennifer Jetton | Kim Kennemer Patschke | Sarah Weiland Machen |
| Avery Dunn | Chrissy Johnson | Marie Bruce Putman | Brooke Newbury Wells |
| Lauren Joyner Erler* | Courtney Johnson | Kristy Braun Rioux | Sydney Wilhelm |
| Dylan Faulkner | Valerie Klaus | Lindsay Treadwell Rosenthal | Jillian Wolpman |
| Michelle Graham | Angela Kopecki Sultzer | Christine Sas | Kate Zora |
| Adrian Greenman | Ann Korioth | Anna Massey Saum | *Club Associate |