From The Recruiting Coordinators
We are excited to announce some improvements to the recruiting process at Austin Junior Volleyball! We are dedicated to providing the best support possible for our athletes who want to play volleyball in college, so we are adding a personal touch to our approach. Each age group will have an Age Group Coordinator that will be able to develop a strong relationship with each athlete. The Age Group Coordinators will work closely with Rachel, who will be in contact with college coaches. This way, every athlete will get the personal attention they deserve to find the best fit for their collegiate future.
We are also moving to a new recruiting resources site built with the JVRA! This site will replace our current recruiting platform with more robust education materials for athletes and better functionality for college coaches. This will be included in the dues for every athlete on our 15s-18s teams. We will host training sessions and send invites to this new platform once tryouts have ended. Read more information →
Meet the Recruiting Staff
Click each coordinator for direct contact information
Rachel will be the contact for college coaches and disseminate information through age group coordinators
Rachel will serve as the age group coordinator for the 2024s
Rachel will be in charge of educating student-athletes and parents on the recruiting process
Any athlete may contact Rachel at any time for assistance with the recruiting process
Age group coordinators will be liaison between Prospective Student Athletes (PSAs) and Rachel
Recruiting Flow of Communication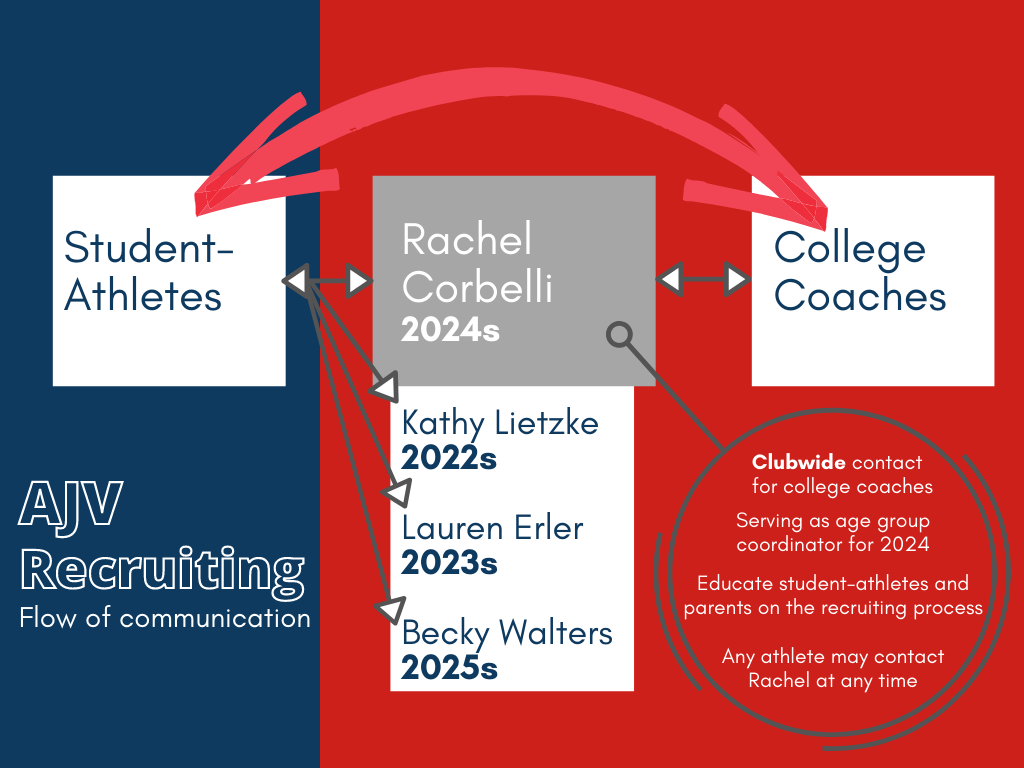 AJV Athletes!
Visit our private page for AJV athletes ONLY for more information on how to make the most of our resources.
Questions for Us?
Contact Rachel Corbelli for questions about the recruiting process.
Below is a comprehensive list of ALL of our athletes and their SportsRecruits profiles. You can also find these divided by age group by hovering over the recruiting menu above.